The Future is Clear: Krisp and Prevail Unite to Transform Remote Depositions with AI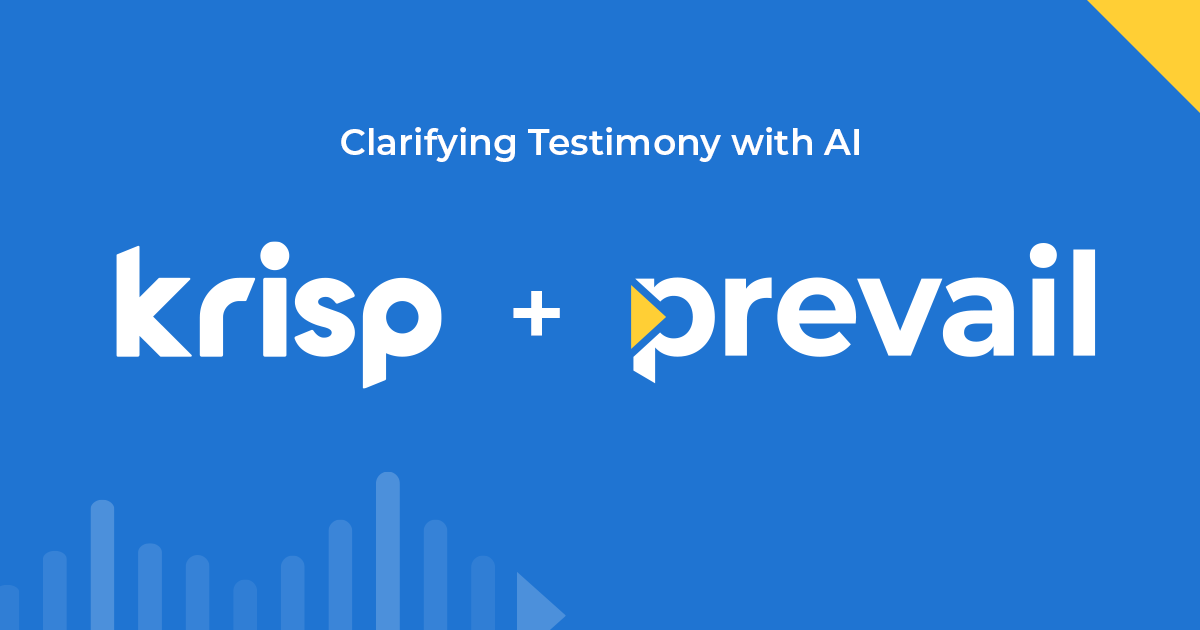 [ Originally published by Krisp. ]
BERKELEY, Calif., October 26, 2023 – Krisp, the pioneer of AI-powered Voice Productivity software, announced today a new partnership with Prevail, the leading next-gen legal testimony management platform, through an integration of Krisp's industry-leading AI Voice Clarity software.
With its mission to spearhead the digital transformation of the legal industry, Prevail is the only AI-assisted testimony management platform for legal proceedings and sets the standard in virtual depositions.
This integration brings Krisp's AI-powered Voice Productivity technology to Prevail's video testimony platform to remove bi-directional background noise and voices, making it the only testimony management platform with this differentiated capability.
"Krisp and Prevail share a commitment to enhancing communication quality and we're excited to partner to deliver the power of Voice Productivity AI to Prevail users' high-stakes environments," said Robert Schnoefied, EVP of Licensing and Partnerships at Krisp. "This partnership is a testament to our shared dedication to providing industry-leading solutions to our customers, and we're thrilled to be part of this transformation."
"Our clients have high expectations when it comes to remote depositions" said Randy Bares, CTO at Prevail. "Partnering with Krisp provides our clients with clear and secure communications, and allows us to deliver the highest quality product to exceed their expectations."
The integration between Krisp and Prevail adds significant value to Prevail's customers. This enhancement ensures that users can engage in clear conversations within Prevail's secure communications offerings, addressing the specific needs of users who operate in critical environments. This collaboration not only brings improved communication quality but also aligns with Krisp's and Prevail's commitment to bringing industry-leading solutions to their customers.
About Prevail
Prevail is a cloud-based testimony management platform that is revolutionizing the legal industry. Designed by attorneys, for attorneys, Prevail addresses long-standing gaps in pre-trial evidentiary services: a lack of innovation, high video costs and quality, and transcript rough delivery times.
Prevail uses machine learning and AI to generate real-time transcripts, create bookmarks and tags, and synchronize audio and video evidence with text. This deep AI-driven analysis produces rough transcripts you can access immediately, and centralizes all exhibits for easy management. Attorneys and clients can collaborate on the Prevail platform in the cloud, at the same time.
Book a personalized demo at Prevail.ai.
About Krisp
Founded in 2017, Krisp pioneered the world's first AI-powered Voice Productivity software. Krisp's Voice AI technology enhances digital voice communication through audio cleansing, noise cancelation, accent localization, and call transcription and summarization. Offering full privacy, Krisp works on-device, across all audio hardware configurations and applications that support digital voice communication. Today, Krisp processes over 75 billion minutes of voice conversations every month, eliminating background noise, echoes, and voices in real-time, helping businesses harness the power of voice to unlock higher productivity and deliver better business outcomes.
Learn more about our SDK for developers,