Streamline Remote Depositions with a Session Manager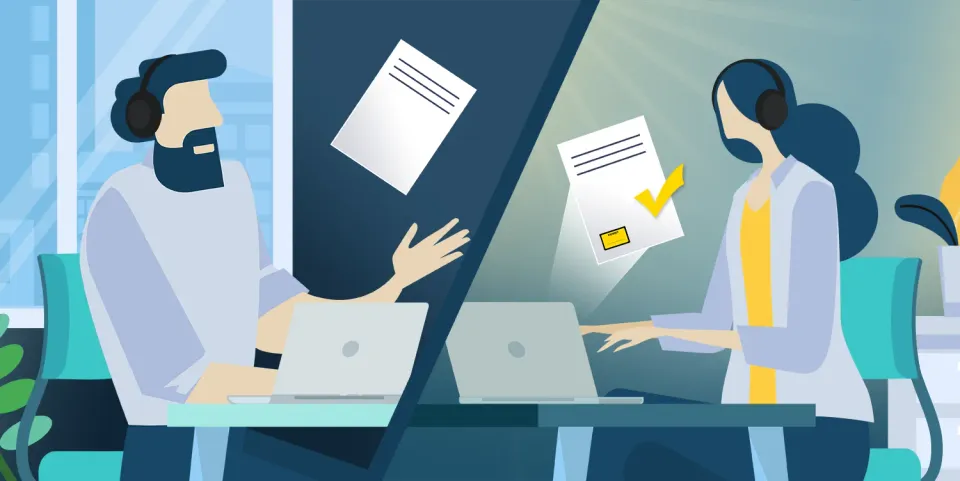 In today's remote-first world, virtual depositions have become the new norm, but some legal professionals may still have questions about how everything works. Others may have concerns about whether they could efficiently operate video conferencing software while simultaneously taking deposition, presenting exhibits, and communicating with staff and other attorneys.
Thankfully, Prevail Session Managers make conducting remote depositions a breeze—by handling the technical aspects of the remote deposition software and leading the session, your Session Manager allows you to focus on the matter at hand: the deposition.
What is a Session Manager?
Prevail's Session Managers are present during all virtual proceedings and act as a hybrid of a digital court reporter and a technical assistant. They handle administrative tasks like introducing and marking exhibits and provide technical guidance to participants whenever needed.
Session Managers are not transcriptionists—Prevail's AI transcription engine handles that—but they can correct any errors in the live transcription right away. They can also stamp exhibits and enter them into the record upon request, swear in witnesses, and pause the session.
Speaking of exhibits, your Session Manager can also help you pre-load evidentiary files to your Briefcase before the session, giving you one less thing to worry about during the deposition. They can also assist in sharing exhibits during a session, allowing participants to view and annotate them.
How Session Managers Maximize Efficiency of Virtual Proceedings
Prevail is built for ease of use, designed specifically for legal professionals, and equipped with a set of productivity tools to optimize taking and utilizing testimony. With a Session Manager facilitating the entire virtual deposition process, you're free to focus on utilizing these tools to boost the effectiveness of testimony.
Share and annotate exhibits, create clips to use as evidence at trial, flag testimony using colored markers to indicate various issue codes, and add notes to specific lines of transcription. Sound overwhelming? Not to worry, your Session Manager is at the ready with technical expertise and knows the platform inside and out!
Does it Cost Extra to Use a Session Manager?
Unlike traditional court reporting, Prevail's testimony management software is all-inclusive, with no surprise fees or upcharges. A Session Manager is included with every remote deposition at no extra charge.
To learn more about how a Session Manager can help optimize your future remote depositions, book a free demo of the software today.